PROPERLY
Property, Resident & Community Management ++
https://properly.asia
SUMMARY VIDEO
COMPANY DETAILS

SUMMARY
ProperLy offers property, resident & community management applications for the property industry. 
ProperLy provides serverless cloud-based mobile software solutions with command center capabilities from where a property developer, building management company, resident association, or joint-management body steers its operations, staff, suppliers, residents, and other stakeholders.
ProperLy specializes in automated customer care and after-sales service process, leading to higher levels of resident satisfaction while incorporating branding & community-building opportunities for its clients.
In our next phase of development, we will introduce artificial intelligence (AI), deep learning & machine learning (DL& ML), and industry benchmarking functionalities.
PROBLEM
The property industry has much to gain from better organized and automated customer care services.
Over the years we have identified a few key areas and a whole bunch of other after-sales and customer care opportunities where the property industry could benefit from.
SOLUTION
By automating the key issues, and moving all actions, documents, pictures, videos, To-Do lists, and communication to mobile devices, there is a world of efficiency to be gained.
Providing building users with one single application where they can communicate with the building management, and 3rd party service providers will increase the user experience of the building users. Whether that's an office building, a shopping center, a government or sports complex, or the house they live in.
Happy users of buildings automatically become ambassadors for the services provided.
This will lead to additional marketing and sales opportunities.
PRODUCT
The ProperLy consists of a Command Center Dashboard and a Residents Mobile App. So far was self-funded, and we are ready for the next stage of our development.
The next stage of our development will offer a mobile application for all professional users (supervisors, contractors and 3rd party service providers). Further, will we add layers of artificial intelligence from where we will create feedback loops for the client, and offer industry benchmarking tools. Additionally, we will extend new modules offered to the residents and building users.
TRACTION
Since 2017 we have been handling one large client which gave us the opportunity to build the software application as it is today while handling their complete customer care center, and all their maintenance management teams.
We are currently in discussion with some larger players within the Malaysian market and have some interest from Indonesia, Singapore, and Mexico.
CUSTOMERS
In principle, we offer a B2B business model, with some B2C end-user services, in order to enhance overall services for our clients in the property industry.
We provide full in-house training for all our clients and listen carefully to their needs, which could lead to global improvements or client-based customizations of the software applications.
BUSINESS MODEL
Our business model is straightforward a managed services-based model, with a pricing structure in three levels, Basic, Advanced, and Premium.
Within the advanced & premium models we allow for customizations, in-app 3rd party advertising shared revenues, industry benchmarking, and call center services.
NEW Product for Property Developers, and Joint-Management Bodies - Full-Service Buy-Out of Customer Care Center. 
MARKET
Our primary markets would be in Asia, mainly Malaysia, Singapore, Indonesia, and Thailand at first, however, we do not shy away from venturing further abroad. We are firm believers to get our own backyard onboarded first.
We currently also have found traction in Mexico, the Middle East, and Europe.
Compared to other parts of the world, the Asian property market is still steadfast growing and offers tons of opportunities.
COMPETITION
There are a variety of competitors in the market, however, we see that they are mainly resident-oriented, and solving issues for residents. We are property-industry focussed, and attack the market from a different angle.
We are confident that our knowledge of the internal workings of the property & construction industry, including its underlying issues and challenges, gives us the edge to take on our competitors.
PARTNERSHIPS
Industry partnerships are important to us, we are very focused on the opportunities within the UNSDG2030 and ESG' s ecosystem.
We have partnered with a Malaysian payment gateway service provider, serving various countries in Asia, and we got approval from Bank Negara in Malaysia to provide online payments on our platforms. 
Further, did we partner with SalesCandy "close more sales" - delivers our leadgen capacity.
We are on the brink of striking a partnership with an international city-planning software & digital twinning company.
Further, are we extending our advisory team with a sustainability specialist in order to help our clients with their UNSDG & ESG goals, and we are in discussion with various other 3rd party service providers, to enhance our overall services package.
Our technology runs completely on AWS.
Our MSC status application under MDEC is currently pending. 
FUNDING
So far ProperLy has self-funded the Property Developer Command Center & Dashboard, and the Resident Mobile Application. Now it's time to open our first round of funding for interested investors that help us grow together.
The funds will be used to ramp up our tech developments, improve our back-office, and roll out a more extensive marketing campaign.
We believe firmly that our product will add value to the international market.
VISION
Our vision is to provide Property Developers and Building Managers with state-of-the-art digital technology in order to reach higher levels of Resident Satisfaction while getting them ready for the future of automated business processes.
INVESTORS
So far the company has been self-funded. Recently we have added 2 new shareholders both with an incredible network of potential investors. The funding round with Pitchin' is our very first attempt to open our company for additional funding, in order to finance the next steps on our development and international growth ladder.
FOUNDER
Francis L. Amptmeijer
CEO & Founder
Frank is Dutch and has been heading the company since its incorporation in 2014. He is a certified micro-electronics engineer and a serial entrepreneur in the IT business since 1996. He has accumulated a trustworthy and skilled group of team members around him, to assist him in his vision forward. As a Malaysian PR applicant, his long-term vision is Asia-based.
Frank has been a moderator since 2017 for various property, building, proptech & maintenance conferences, through which he has built a friendly network of specialists and potential clients.
TEAM
Saiful Bahri Bin Samuel
Executive Director
Saiful graduated in accounting from the UK and started his career in financial management and administration in oil palm plantations and the private sector for 12 years. He heads his own companies in real estate and mining for the last 15 years and specializes in project management and project consultancy for others.
Ng Kean Lu
Corporate Finance
Kean has been an RHB remisier for the last 20 years. At RHB he deals with equities and derivatives. Before RHB he started his career with the OSK Investment Bank, raising capital for the group. A company where he still holds warm contacts. Further, does he have stakes in property developers and F&B outlets. Kean has built a strong network of avid investors around him.
Rizwan Ahmad
Tech Lead
Riz has worked for the company since 2019 and brought us the technical framework the MVPs are built on a solid foundation of microservices upon which we can extend. Rizwan recently moved to Pakistan from where he can tap into an extensive number of IT specialists.
Cheah Yew Chuan
Sales Lead
Nyx has 20+ years of experience in both the sales and marketing field of tech-related and online businesses. He graduated in Information Technology, and has gained a multitude of industry certificates, and had a successful career with Intel. He is ready and motivated to make ProperLy an international success.
Matthias Gelber
UNSDG & ESG Advisory
Matthias Gelber is currently the Brand Ambassador for Avant Wood and is the ESG advisor for the Philippines Stock Exchange. He was voted "Greenest Person on the planet" in 2008 and has given eco and sustainability talks in 42 countries. His interest to make this planet a better place never stops. Matthias assists us and our clients in onboarding their UNESG goals.
PRESS
We are in the midst of preparing our first press releases for the local and international press.
DISCLAIMERS
No shares will be allotted or issued based on this document after six months from the closing of the offer period.
This issue, offer or invitation for the offering is a proposal not requiring authorisation of the Securities Commission under section 212(8) of the CMSA 2007.
This document has not been reviewed by the Securities Commission Malaysia. The Securities Commission does not recommend nor assumes responsibility for any information including any statement, opinion or report disclosed in relation to this fund raising exercise and makes no representation as to its accuracy or completeness. The Securities Commission expressly disclaims any liability whatsoever for any loss howsoever arising from or in reliance upon the whole or any part of the information disclosed.
Please login as an investor to see more information.
Launch Visitor Management & Guard House Modules
over 1 year ago by Francis L. Amptmeijer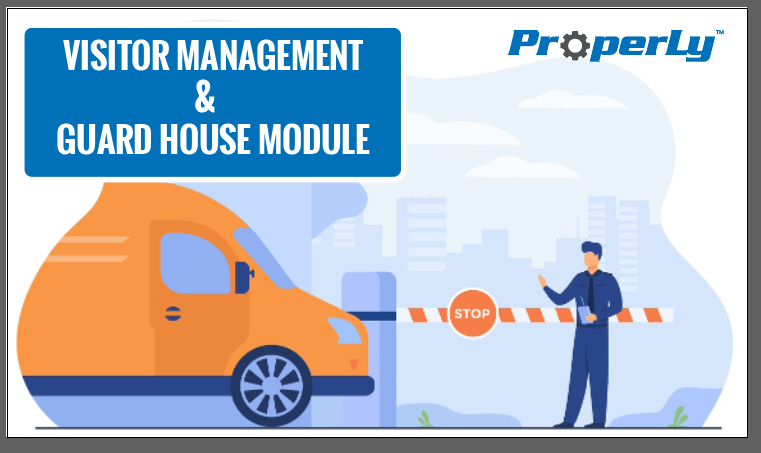 Since the start of the COVID-19 pandemic, the world has been changing, and the demand for more contactless parts of the business processes was called for.
We have just launched our Visitor Management & Guard House Modules, and immediately found some traction with local JMB's.
Team ProperLy
Language Module Completed
over 1 year ago by Francis L. Amptmeijer
Thanks to the never-ending support from our investors, we have completed and tested the language modules for the Properly Command Center and Mobile App.
This means we can deliver the system as from now in any language in the world.
This comprehensive language system will open a lot of new doors for us.
Team ProperLy
Extending Our Bonus Share Offer..!
over 1 year ago by Francis L. Amptmeijer
Special Offer for Property Developers & JMB's
over 1 year ago by Francis L. Amptmeijer
We offer Property Developers & JMB's investing in ProperLy a six month Free Use of our complete application, including full onboarding & training. Offer stands for local and international investors.
Early-Bird Offer Extended
over 1 year ago by Francis L. Amptmeijer
Dear Investors,
Great news! We have extended our Early-Bird offer till 31 May 2021.
Take advantage of the Bonus Shares Incentive till that date.
Our campaign will be live from 1 June 2021 till 1 July 2021.
Team ProperLy
Please login or sign up to see the discussions.